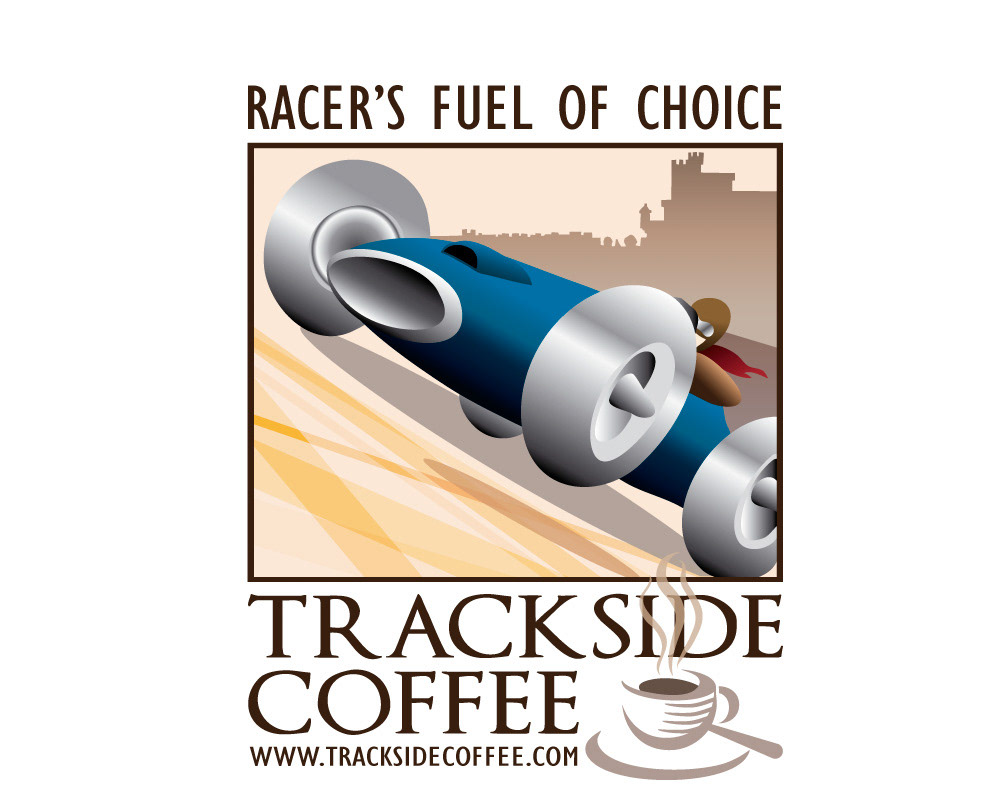 New logo for coffee shop in US
The coffee shop was inside the track area
Brief
Company Name: Trackside Coffee
Slogan: Racer's Fuel of Choice
What We Do: We sell small batch roasted organic coffee to Racing and Car enthusiasts.
Our Industry: Automotive
Where we will use the Logo:
Web, Print, Mugs, T-shirts
Client explanation:
"The logo will be used ona 2 3/4" by 4" label on the coffee bags. So that label will have to include the logo, the blend, the tagline for the blend, our contact information. So, my vision is to have this logo on the top with the rest of the information below it. I didn't want to cloud the competition with the additional information as what I really need is a logo. However, I also need a logo that will present itself on a tee as well.

Designs are great and very much what I could see on the back of a t-shirt. I am wondering how I would use it on the coffee label with the blend information, organic, 10% goes to charity."
Final result
Inspired by old time racing posters
Top Three Things to Communicate through our Logo:
#1 - Passion for Automobile Racing/Cars
#2 - Organic Coffee
#3 - We donate 10% of the proceeds to worthy causes
Color Preferences:
We would like a logo which embraces the passion for motor racing and race tracks. Race cars are normally in racy colors such as red, yellow etc. with contrasting white, red or other color stripes.
Our Ideas and Additional Information:
We are looking to portray a quality image which incorporates a race track theme along with race cars. This doesn't mean it has to have a car or track in the logo. 
Ideas could range from classic car posters for classic races such as Monaco F1 to perhaps such storied brands as Ferrari, Bugatti. Or perhaps a checker flag theme and incorporating a road course. 
Key element is not to make it with a bunch of beveled text, shadows etc. as it will be used on T-Shirts, decals, website, coffee bags etc. 
This logo will be primarily used on a coffee bag label so we need to ensure that the slogan is readable. when the logo is as small as 2 3/4" wide. The label overall size is 2 3/4" wide by 4" tall. When I print these labels I would need the logo, blend presentation image, blend descriptor as well as our company contact info. 
Logo should include our URL www.tracksidecoffee.com 
We would have the following blends: 
Garage Day Blend : smooth and drinkable all day long while you are kicking around working in the garage 
Track Day Blend: Bolder blend to keep you going throughout the driving sessions 
Race Day Blend: Strong Bold blend to keep you focused and kick some butt on the track 
High-Test Espresso: For when you need that extra kick! 
Rally Blend (Roasters Choice): Just as a rally driver has to trust their co-driver you have to trust the master roaster to give you the best blend. 
Ideally the finished execution would consist of: 
1. A logo which can be used as the umbrella brand identifier. This would need to convey to the auto enthusiast that there is a link between the coffee and the Automotive passion. This would need to convey the vintage feel that I am looking for. It would need to be adaptable to use on the labels as mentioned above, T-Shirts etc. At a minimum it would need the URL and slogan along with the name.